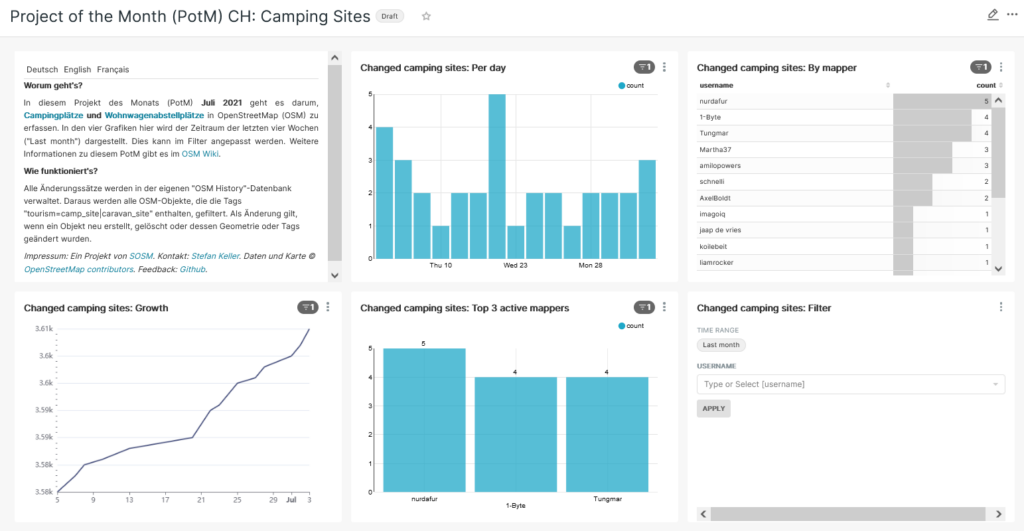 Le moment est venu: le « Projet du Mois Suisse » – en anglais « Project of the Month Switzerland », en bref PotM CH – a commencé! L'idée est de travailler ensemble sur un sujet spécifique d'OpenStreetMap. De cette façon, les cartographes peuvent être sensibilisés à un sujet et les nouveaux venus à un sujet peuvent être initiés à OpenStreetMap (OSM). Il est également utilisé pour l'amélioration ciblée des données (« Collecte de données dirigée »). L'idée vient du « Projet du mois » français et du « Schwerpunkt der Woche » allemand, entre autres.
Page Wiki pour PotM CH et tableau de bord PotM CH
Une page wiki pour PotM CH [1] a été créée et une application web PotM CH [2] a été mise en place. La page wiki explique à nouveau de quoi il s'agit et la webapp PotM CH montre dans un tableau de bord avec des graphiques les mappeurs actifs et la progression.
PotM CH juillet 2021 Campings et aires de camping-car
Le PotM CH juillet 2021 est consacré aux terrains de camping et aux aires de camping-car. Utilisez le tag « tourism=camp_site » pour les terrains de camping et le tag « tourism=caravan_site » pour les aires de camping-car. Vous trouverez d'autres conseils sur la page wiki de PotM CH [1]. Important: Toujours marquer les changesets avec #potmch !
Actions suivantes et StreetComplete et MapComplete
Les prochaines actions sont déjà planifiées et vous pouvez participer et suggérer d'autres actions ou sujets! Il suffit de modifier la page wiki mentionnée [1]. Si vous voulez faire un travail de pionnier, vous pouvez également configurer StreetComplete ou MapComplete! Sur la page wiki de PotM CH, vous trouverez les liens d'aide correspondants.
Rejoignez les campings du PotM CH juillet 2021! Qui montera sur le podium en juillet?
Liens:
[1] Page Wiki pour le PotM https://wiki.openstreetmap.org/wiki/FR:Project_of_the_month_Switzerland
[2] PotM CH Dashboard Webapp https://potm.osm.ch/superset/dashboard/13/